Eugenia Lim: The Ambassador – Touring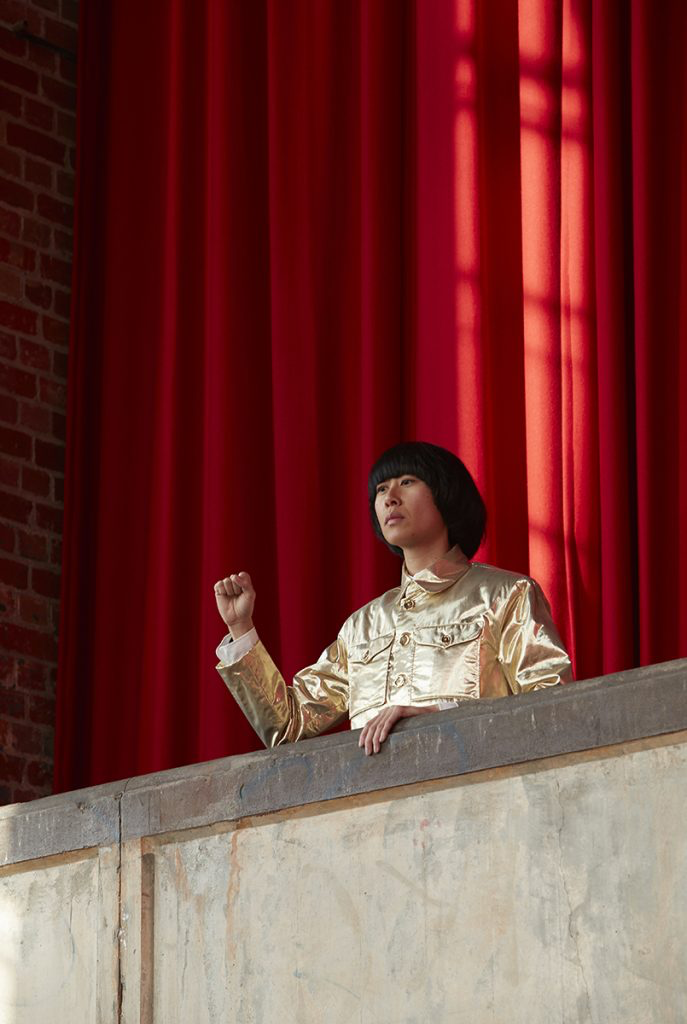 When
28 February -
16 January 2021
Location
Anne & Gordon Stamstag Museum of Art
Hawke Building, City West campus, University of South Australia, 55 North Terrace, Adelaide SA 5000
28 February - 6 April 2019
Nautilus Arts Centre
66 Tasman Terrace, Port Lincoln, Eyre Peninsula, South Australia, 5606
Riddoch Art Gallery
1 Bay Rd, Mount Gambier SA 5290
17 January - 16 February 2020
Bega Valley Regional Gallery
Goulburn Regional Art Gallery
Corner of Bourke and, Church St, Goulburn NSW 2580
Griffith Regional Art Gallery
167 Banna Ave, Griffith NSW 2680
12 September - 8 November 2020
Coffs Harbour Regional Gallery
Cnr Coff &, Duke St, Coffs Harbour NSW 2450
20 November 2020 - 16 November 2021
The Ambassador presents three distinct series by Melbourne-based artist Eugenia Lim that centre upon a gold-suited figure who appears halfway between truth and fantasy. In each series, Lim transforms herself into her eponymous invented persona, the Ambassador, an insatiability curious character who traverses time and space, playfully exploring Australia's cultural and built landscapes.
This exhibition marks the first exhibition of Eugenia Lim's work and presents all three bodies of work together for the first time. Together, they represent a compelling and witty examination of contemporary Australia from a female, performative and Asian-Australian perspective. As the Ambassador, Lim 'shapeshifts' to unearth multiple dimensions of the Asian-Australian narrative – drilling down into racial politics, the social costs of manufacturing, and the role of architecture in shaping society – exploring how national identities and stereotypes cut, divide and bond our globalised world.
Curated by Mikala Tai, Director, 4A Centre for Contemporary Asian Art, The Ambassador is travelling to eight galleries and art centres across Australia between 2019 and 2021 through Museums & Galleries of NSW.
The Ambassador Catalogue:
The Eugenia Lim The Ambassador Catalogue has been released to coincide with The Ambassador touring exhibition. Featuring an essay contribution by exhibition curator and 4A Director Mikala Tai and featured interview between the artist and curator and writer Natalie King, The Ambassador catalogue reflects on the work of Eugenia Lim in The Ambassador, with detailed reflections from the artist on 'Yellow Peril', 'The People's Currency' and 'The Australian Ugliness'. The catalogue is a 4A Centre for Contemporary Asian Art and Museums & Galleries of NSW publication and has been made possible with the support of the Gordon Darling Foundation.
Curators
Artists
Top image: Eugenia Lim, The People's Currency, 2017, performance, dimensions variable. This project was commissioned by 4A Centre for Contemporary Asian Art, supported by the City of Melbourne and part of the inaugural Asia TOPA Triennial of Performing Arts; photo: Zan Wimberley.
A 4A Centre for Contemporary Asian Art and Museums & Galleries of NSW touring exhibition. This project has been assisted by the Australian Government's Visions of Australia program.