Dancing Hiatus
Reina Takeuchi
As I log into my Zoom account, I'm greeted by a friendly face. A stranger. A dancer. A facilitator. Clicking through Zoom's gallery view, I find a hundred other dancers stretching, limbering and rebooting their internet connections across an array of backyards, bedrooms and lounge rooms. The online chat room begins to flood with introductions: "Good morning from Switzerland!", "Good morning from Israel!", "Good evening from Australia!" and a proliferation of other messages. I'm invited by our facilitator to find a softness in my pelvis, to conjure a release in my chest, to sense the room through my skin, to feel smoke escape from my pores. And finally, to send it all around myself, to feel my body yawn.
The Latin verb hiare means 'to gape' or 'yawn'. These days, hiatus is usually used in a temporal sense to refer to a pause or interruption. Originally, the word referred to a gap or opening, such as a cave opening onto a cliff. Now, it is closely associated with resting and periods during which activities are temporarily suspended.
With Zoom dance classes quickly becoming the 'new norm', I become aware of my own embodied experience of dancing in relation to the shared embodied experiences that take place on an intercontinental level. There's something incredibly disconcerting and unsettling about this new phenomenon. Yet I'm excited at the prospect of being able to be a voyeur upon myself dancing, and to be a voyeur on the dance of others who I am highly unlikely to ever meet in person.
Until quite recently, contemporary performance and somatic improvisation classes were experienced in person, usually in a shared space. Many dance practitioners have travelled across the globe to share space, train and work with formidable artists and leading dance companies at the forefront of new prospects for live performance. The rise of global online dance classes coincided with the Coronavirus pandemic and global lockdown. In the spirit of continuous research, dance practitioners around the world are sharing dances, screenings of dance cinema, and choreographic initiatives via online platforms; a new frontier in shared bodily experience borne of our inability to gather in person. Via Twitch, Facebook Live, Instagram IGTV, and Zoom, communities online are initiating opportunities for us to 'gather together' remotely in our backyards, bedrooms and lounge rooms. Dancing in solidarity together, yet alone. Never has the sentiment of Gaston Bachelard's The Poetics of Space rung so true: to find immensity in the most intimate of spaces, "immensity is within ourselves." (1)
Applications such as Zoom—primarily created for teleconference calling—are now being utilised for activities that are not outcome-focused and are, instead, becoming spaces for sharing movement, meditation, philosophical provocation and educational resources. We give ourselves permission to sit, meditate and 'go within' together, sharing space with one another, if only digitally. It seems that Zoom can be 'bent' to a teacher's pedagogical will to facilitate social and interactive modes of learning and sharing practice. (2)
Since the lockdown began in early 2020, I have digitally met up with at least a hundred dance artists and makers, through many spontaneous encounters and initiatives, including da:ns lab, an annual development program by leading choreographic centre Critical Path, which was hosted online this year. In conversation with independent dance makers from Australia, Asia and South-East Asia, we addressed and navigated what it means to physically rest in a time that's gone viral, which included (but was not limited to) being bombarded with the viral proliferation of dance content online and needing rest in a period of time where everything feels viral worthy. As an investigation of this particular moment we find ourselves in, I began to focus on conversations with Australian-Japanese Butoh artist Yumi Umiumare, currently based in Melbourne, and international artists Deborah Lemuel and Nikaio Thomashow, who have connections to Manila, the Philippines and are associated with Daloy Dance Company. What resonated with me, during these Zoom conversations, was my sense of how the recurrent themes of home, forgiveness and rest ran across these artists' diverse practices.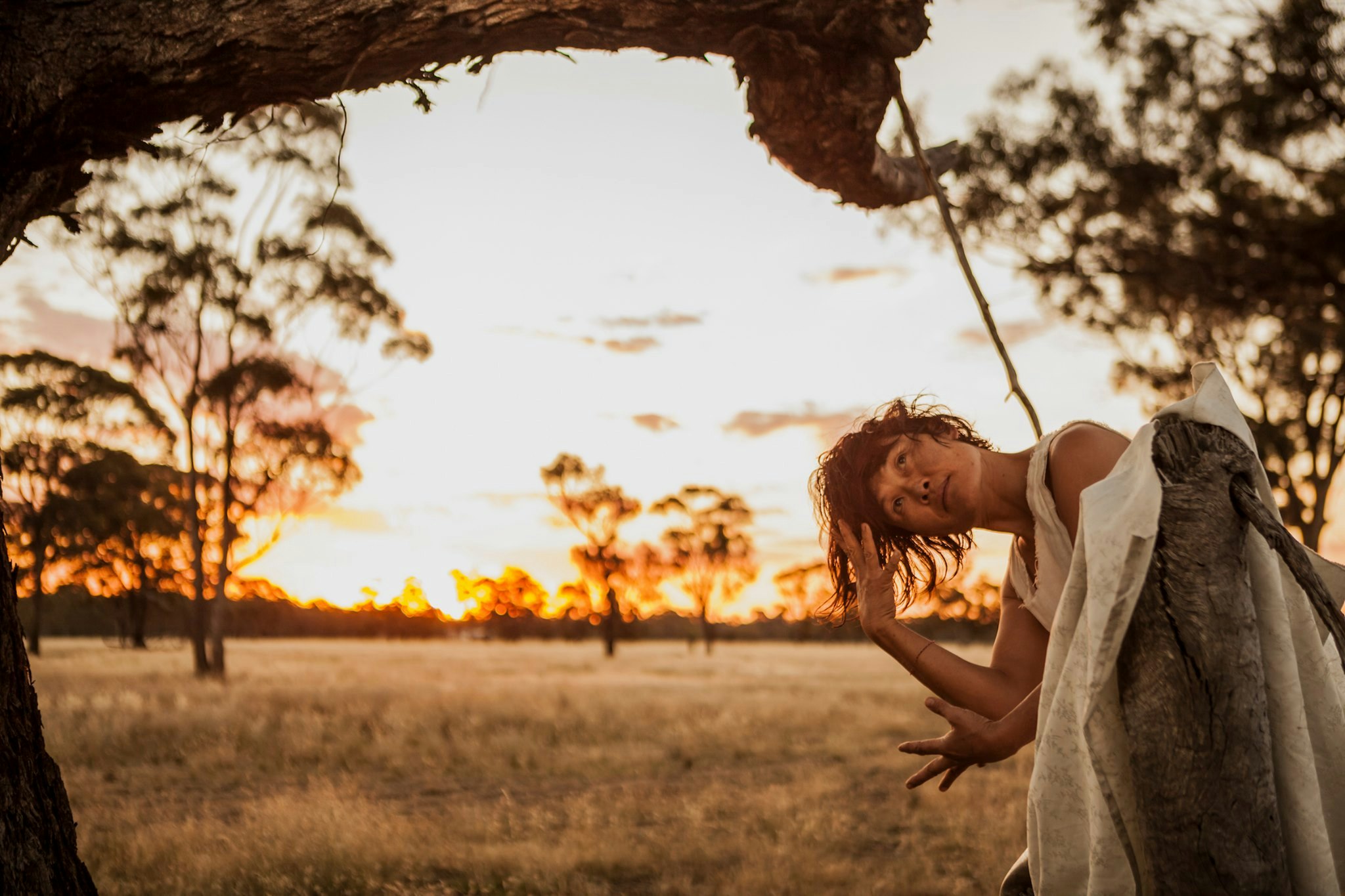 Yumi Umiumare, Butoh Residential workshop in Wimmera, Victoria, 2018; courtesy the artist; photo: Vikk Shayen
Umiumare, whose work has enlivened engagement with Butoh throughout Australia and internationally, found herself suddenly locked down in Melbourne and facilitating Butoh classes online. Due to lockdown regulations, Umiumare conducted walking exercises both inside and outside her home, within a radius of five kilometres. "You can't just go out a lot," she tells me. "So that's the only way, I think to balance between this computer world and getting in touch with nature and the body and well, to open perception, really."
From the safety of her lounge room, Umiumare has been facilitating Butoh and also engaging with the rigours of Japanese tea ceremonial traditions. "Initially, I had a big reaction to teaching Butoh online, like 'WHAT?!' But everything is adjustable and adaptable. You have the benefits of people from the other side of the world joining in. Some days are good, but some days are a little bit rigid. You can't really see Zoom, you just have to talk…try to really articulate certain body parts, rather than just fixating on the head."
As she speaks, Umiumare gestures with her hands around her face and head. These subtle movements make me aware of the total bodily awareness intrinsic to performance practitioners' practices that is so hard to convey through Zoom's condensed and flattened imagery. This conversation acted as a kind of retrospective on her practice this year as Umiumare articulated her general observation of Butoh exercises with participants online. "You are in the lounge room and now 'we're going to walk for 20 minutes in a slow Butoh walk' and you just get into the zone… something will shift, often in a positive way. Sometimes people find it a bit tiring. But I find it interesting to transform my own lounge room."
The metaphorical and physical ritual of travelling inside one's self is one that has been followed by many cultural practices and ceremonial rituals for generations. By turning inwards, one is faced with the task of transcending one's own circumstances to enter a different mental and spiritual state. "In my workshops, I tell the participants to transform the space, as well as their own body space. After the workshop, the whole room looks different! And that's a consciousness. We're thinking 'Oh, everyday it's the same!' But things are changing everyday. There are a lot of restrictions. They say that Butoh is about not being able to move and being 'disabled' from moving. That is the beginning of Butoh. It's almost like a paradox of not moving, but that is the start, that is the dance."
After meeting Lemuel through Critical Path's online da:ns lab, I began an online conversation with Daloy Dance Company to discuss their work MAMAHAY, a dance cinema work that focuses on beckoning and becoming home. Thomashow, the director of MAMAHAY, said that their role in the project has been more about identifying the theme of what it means to not feel at home rather than simply examining the project with a choreographic eye. The piece, Thomashow says, "lent itself more to self-exploration than it did for me giving them choreography because the nature of what it was about is so personal. I think it was a challenging concept to take on in that we're making a piece about home, but we are within our own homes, so how do we make this 'not tacky'? So really thinking about what it means… experiences of not feeling at home and the journey of what you have to do to get out of those discomforts and find your way back to feeling at home."
As a dance collaborator on the project, Lemuel is interested in the adaptive modes of rehearsals brought upon by this current climate. "We somehow came to the conclusion that it wasn't going to be ideal if the idea was going to be fixed on everyone," she says. "Even with the idea of rehearsals—what is a rehearsal now, during the pandemic? The idea that it was going to be genuinely from the concept of home, not really from the space of home because we are using home as, somehow, a space of alienation. But after a month of lockdown, most of us didn't feel at home. It's like work has invaded our homes."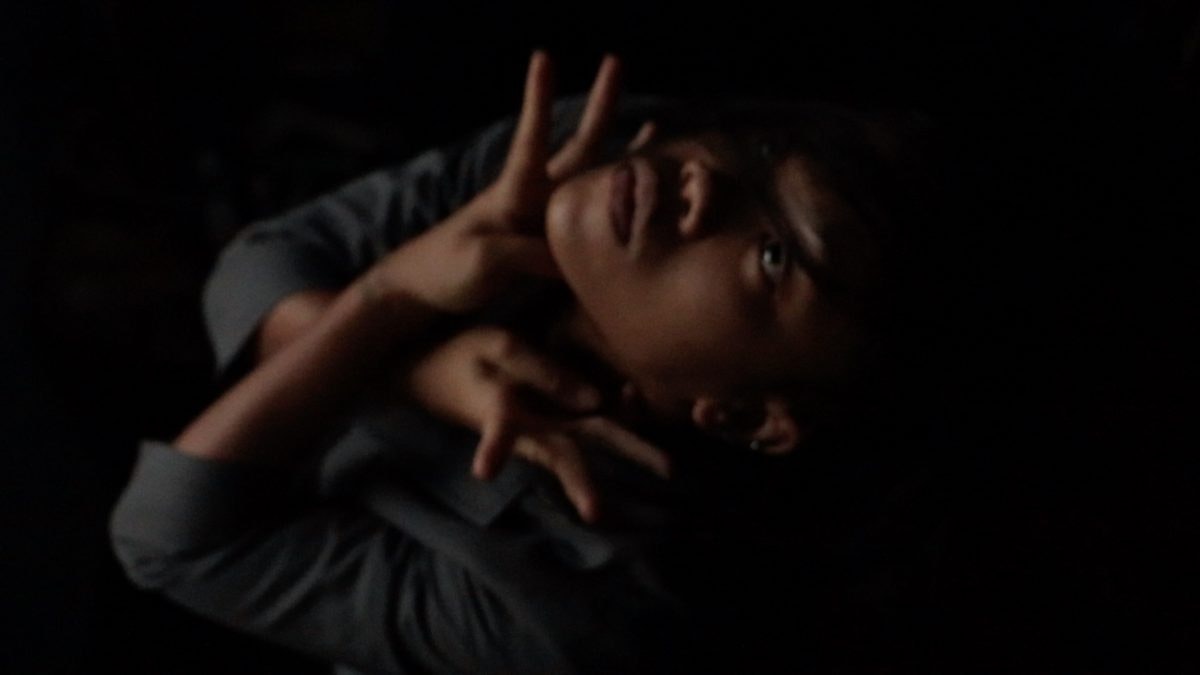 Deborah Lemuel, MAMAHAY (documentation image), 2020; courtesy the artist
This dance cinema project, among many that have erupted around the world during this time, has marked a drastic paradigm shift for the intersection of dance and film. As virtual choreographic processes become more and more prevalent, dance on camera will no longer be limited as a tool for reviewing choreography and documenting movement explorations. Neither will it be the once elevated and bespoke art form of dance cinematographers. (4) It is now a question of how this will shift, evolve and change the nature of live performance from here. It may be able to offer new sustainable approaches to how live performance may look and what the performance-gig economy will become in the post Covid-19 years. "I guess in moving to more digital platforms, it changes the value of it [the experience], unfortunately," Thomashow says. "Because, in the dance world, at least, in my experience, people don't put a value on process, they put a value on product. So, in moving to a digital platform, people don't understand that their money is theoretically supporting us for so many more hours than just the 20-minute piece that you're seeing online… you're not just paying for the final product."
More than anything though, what has come up in these conversations suggests that what is 'local', which includes our walks close to home, our bedrooms, backyards, and, more broadly, connections back to what is local to each of us will become all the more relevant to research and future methodologies for live performance. Global outlooks will always be intrinsic to the creation and advancement of performance industries but the need to travel to expand our worldviews will become less necessary as we realise the importance of connecting with local stories, artistic practices and performances.
Thomashow, who has relocated back to New York State during this time, was still able to be a part of Daloy Dance Company's projects, some of which have brought together over 160 students and 30 facilitators from around the world. "It's definitely going to change the way I look at my own practice and professionalism moving forward." says Lemuel, who is still based in The Philippines, adding that she is very thankful to have had the opportunity with Daloy to be able to connect with Filipinos, Filipinas and Filipinx dancers from different parts of the world through the online space. "Our limitations now are not really limitations, they are actually a revelation that we can surpass the limits because we already have the technology. Now even the older people [in our communities] who say they are not techy, are forced to go techy!" she laughs.
Umiumare has been conducting residential workshops throughout Victoria as well, working collaboratively with Australian-Japanese cinematographer, Takeshi Kondo, to capture the many contemplative modes of Butoh in the Australian landscape. "I find it a big question sometimes to be in this Australian land…in a residential workshop, we have a lot of drone shots of the land and floating in the river. Nature is a teacher for us and the kind of notion in Butoh is that we are not just egotistically dancing—we are part of the elements of nature. And the movement of the wind or trees are a part of us."
She refers to her love for the Australian 'bigness', which she uses to describe the vast land, the difference and the dryness that is suffused in the landscape. Although Umiumare has not been able to facilitate her residential workshops this year, she was able to work with Kondo prior to the extended lockdown implemented in Melbourne, and has also been immersed in her own practice. "Everyday nature is changing. Each time you bear to touch nature, the water, land or ground, it's as though you have the experience of this part of your feet [the sole]" she says, as she rubs her hands together to imitate the soles of feet grazing earth. "In Butoh, there is stomping—it's about connection as you stomp on the earth. It's a daily thing, this practice; moments that make me think."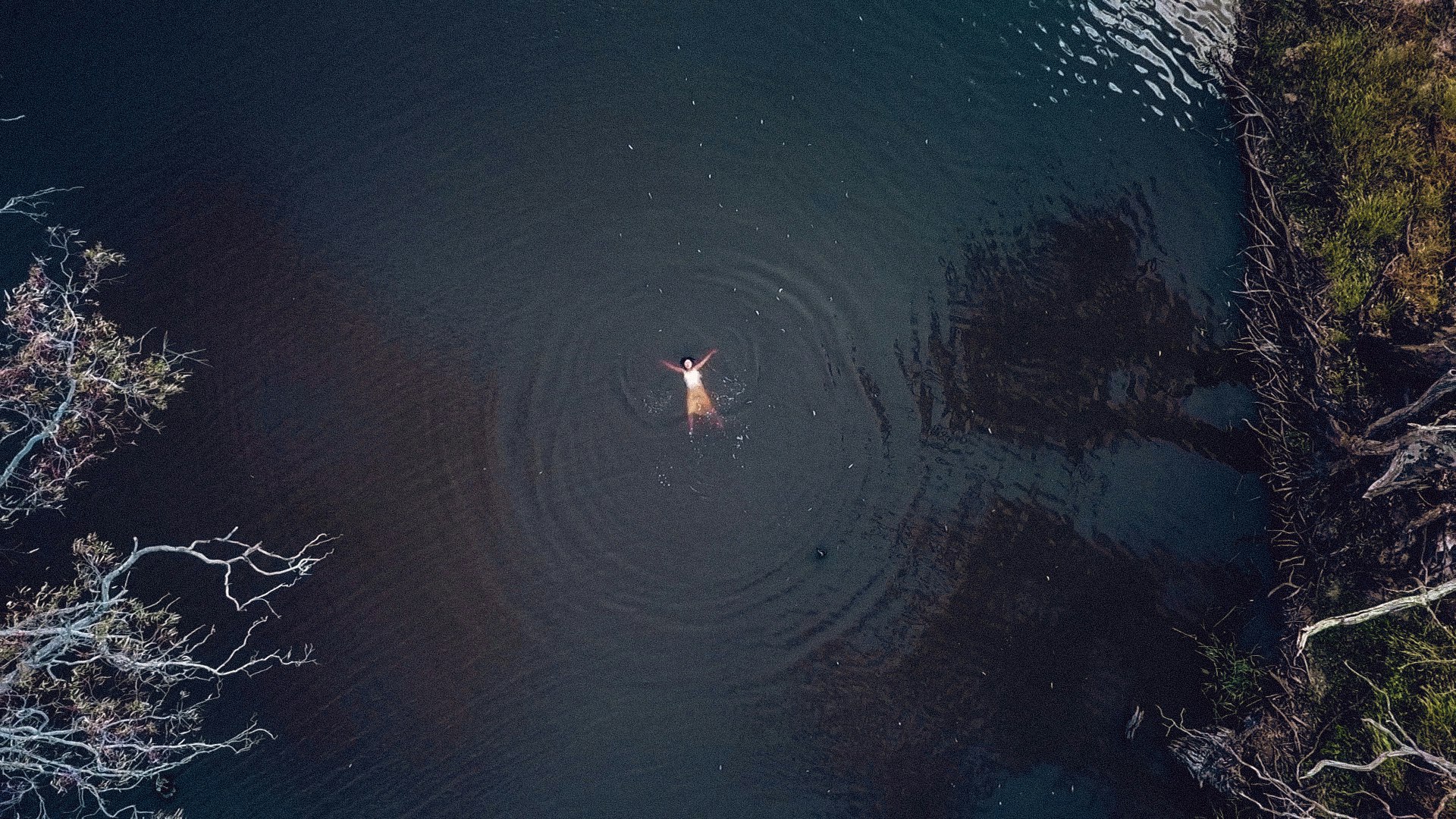 Yumi Umiumare, Butoh Residential workshop in Wimmera, Victoria, 2018; courtesy the artist; image: Vikk Shayen
Perhaps what is local—what is here in front of us— versus global outlooks, will become all the more relevant to research for future emergent methodologies. A sense of hope has arisen from these conversations as well as an emphasis and appreciation for sharing stories that are close to us all, crossing intimate and over-arching digital distances. "It's a challenging time for a lot of people," says Umiumare. "But it is a good chance for artists to be really good introverts and to find what this means for us in our art making and examine what's around us on a very basic level. Nature is not going to complain, it is always there," she laughs. These small pleasures are not only what we will cherish, they are also what we will learn from. The pleasure to move, to walk slowly, to drink tea and to experience many small but significant rituals may seem like acts of hiatus but are, in actuality, moments to learn. Being immersed in nature, our suburban wanderings and traversing our now multi-functional lounge rooms, is teaching us to be more objective, to know that we are dancing afresh.
Notes
Gaston Bachelard, The Poetics of Space (3rd ed), 1958, London: Penguin classics, page 184.
Anja Ali-Haapala, Interactive Zoom Pedagogy, April 2020, accessed online: 20 May 2020 <http://ali-haapala.com.au/2020/04/interactive-zoom-pedagogy/>
Unless otherwise acknowledged, all quotes from the artists are excerpted from interviews with the author in August 2020.
Cristina Gimenez, Mamahay, January 2020, accessed online: 1 September 2020 <https://www.daloydancecompany.com/mamahay>
About the contributor
Reina Takeuchi is an Australian-Japanese artist-researcher, dance maker and curator currently working at 4A as an Assistant Curator.
Read more