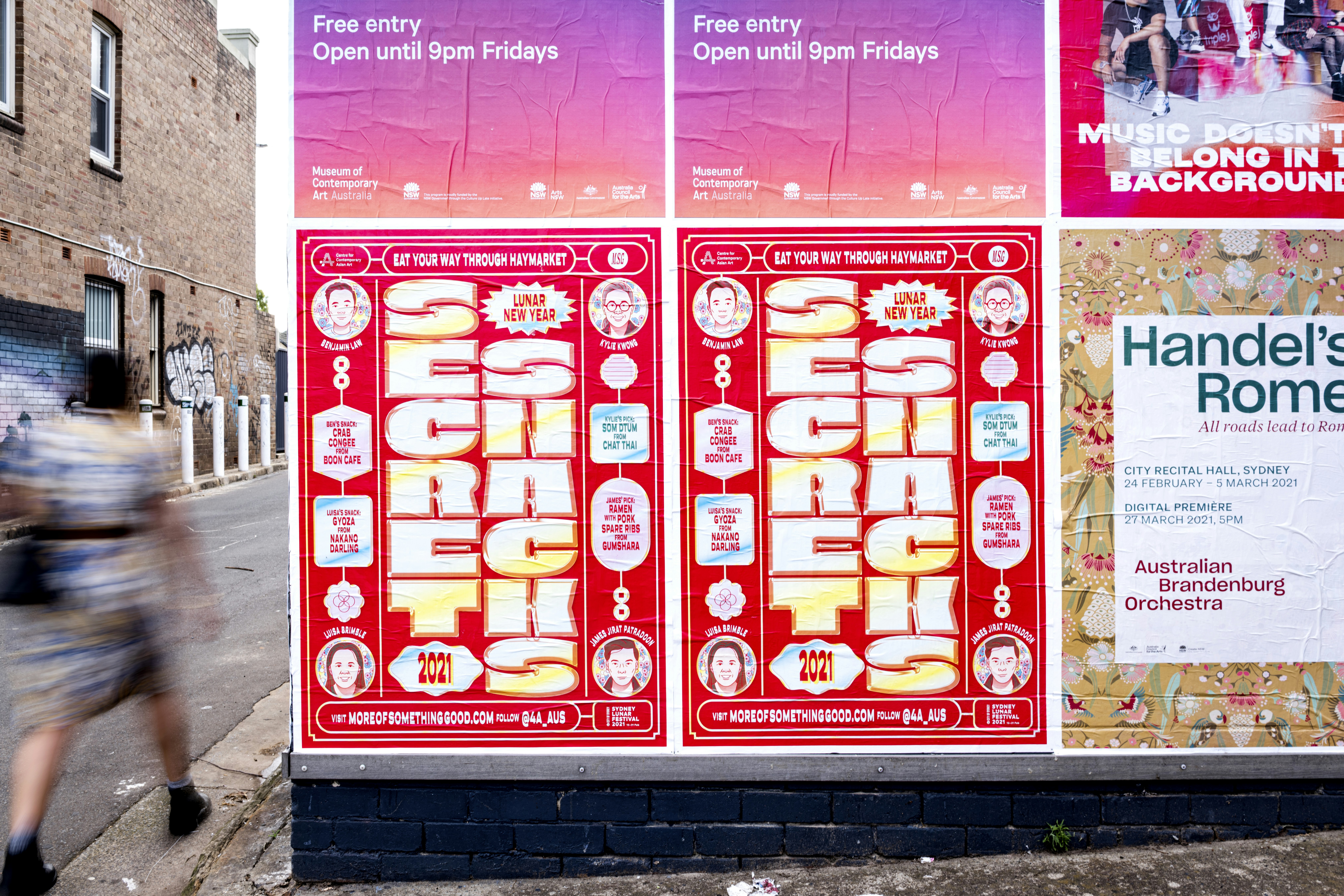 When
08 February 2021 -
12 March 2021
Location
4A Centre for Contemporary Asian Art
181-187 Hay St, Haymarket
Eat your way through Haymarket with
Secret Snacks
, a self-guided street and online campaign presented by
4A Centre for Contemporary Asian Art
.
Launching on 8 February as part of the City of Sydney's Lunar New Year Festival,
Secret Snacks is a creative ode to Haymarket, a much loved precinct for locals and tourists alike—famous for its vibrant energy and copious mix of Asian restaurants and food joints.
For over 20 years, 4A has called Haymarket home, so our team has seen first-hand how the Covid-19 pandemic affected local artists and businesess, especially within the food community. As we safely edge out of lockdown, 4A invites the public to venture into the pockets of Chinatown and Thai town to discover hidden gems or revisit mainstay meals, all in one locale.
For Secret Snacks, 4A has invited top Asian-Australian creatives Benjamin Law, Kylie Kwong, Luisa Brimble, and James Jirat Patradoon to hand-pick their favourite dishes and what makes them special. Over the course of a month, the project revealed tried-and-tested dishes from Boon Cafe, Chat Thai, Gumshara, and Nakano Darling.
We commissioned the designers behind More of Something Good to translate these food profiles into mouth-watering artworks, which we distributed online and via street posters and decals in participating restaurants and public sites in Sydney. From comfort slurps to big cravings, Secret Snacks helps connect food makers, artists and the public through tales that inspire memories, curiosity, and togetherness.
Keep an eye out for Secret Snacks posters and decals across Sydney streetscapes and public sites from 8 February-12 March 2021.
Visit the project online and follow 4A on Instagram (@4A_aus) for updates.
Produced by Mariam Arcilla as part of the City of Sydney's Sydney Lunar Festival, and is supported by the City of Sydney.
Curators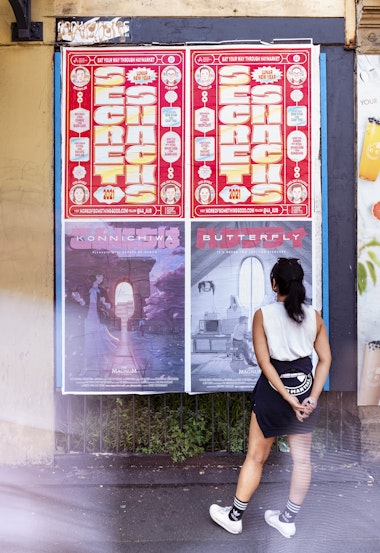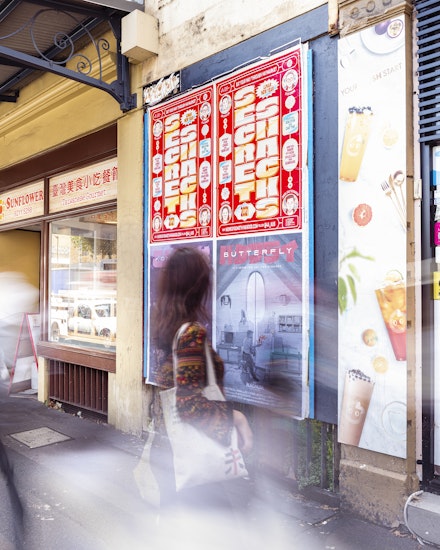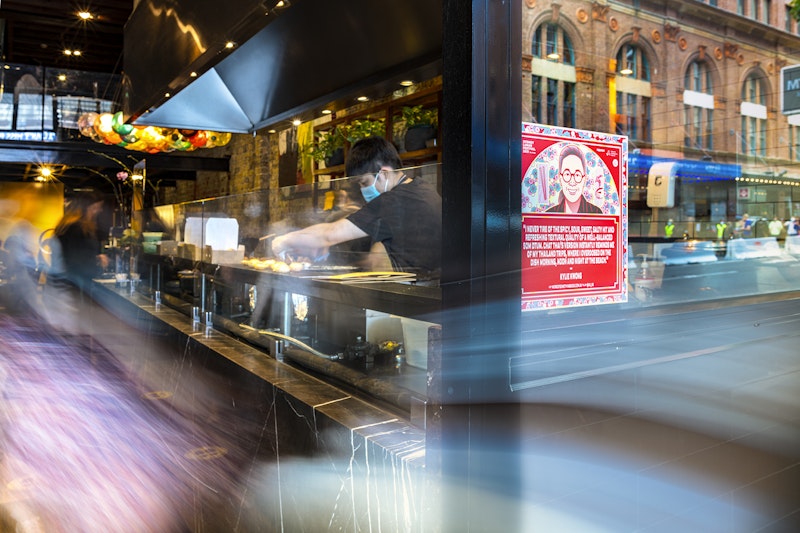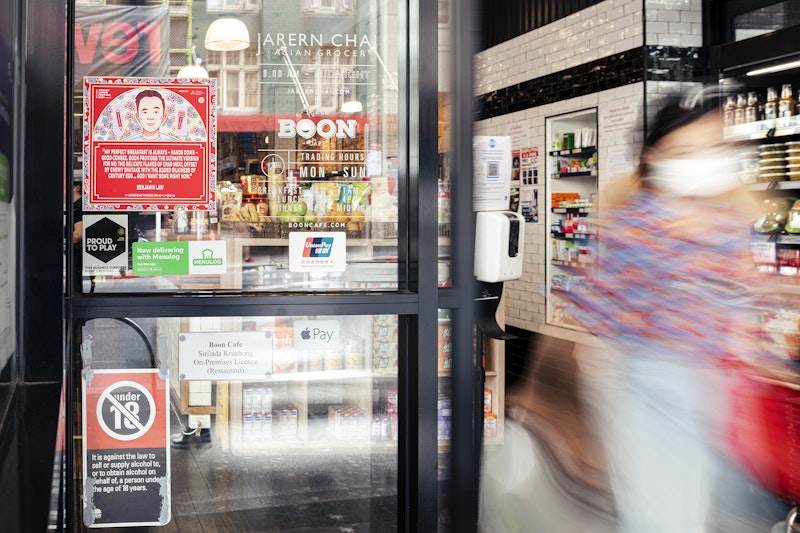 Top image: Secret Snacks artwork posters, 2021; commissioned by 4A Centre for Contemporary Asian Art; designed by More of Something Good; Photo: Kai Wasikowski for 4A; courtesy the artist.