Love Me Long Time: Reading Group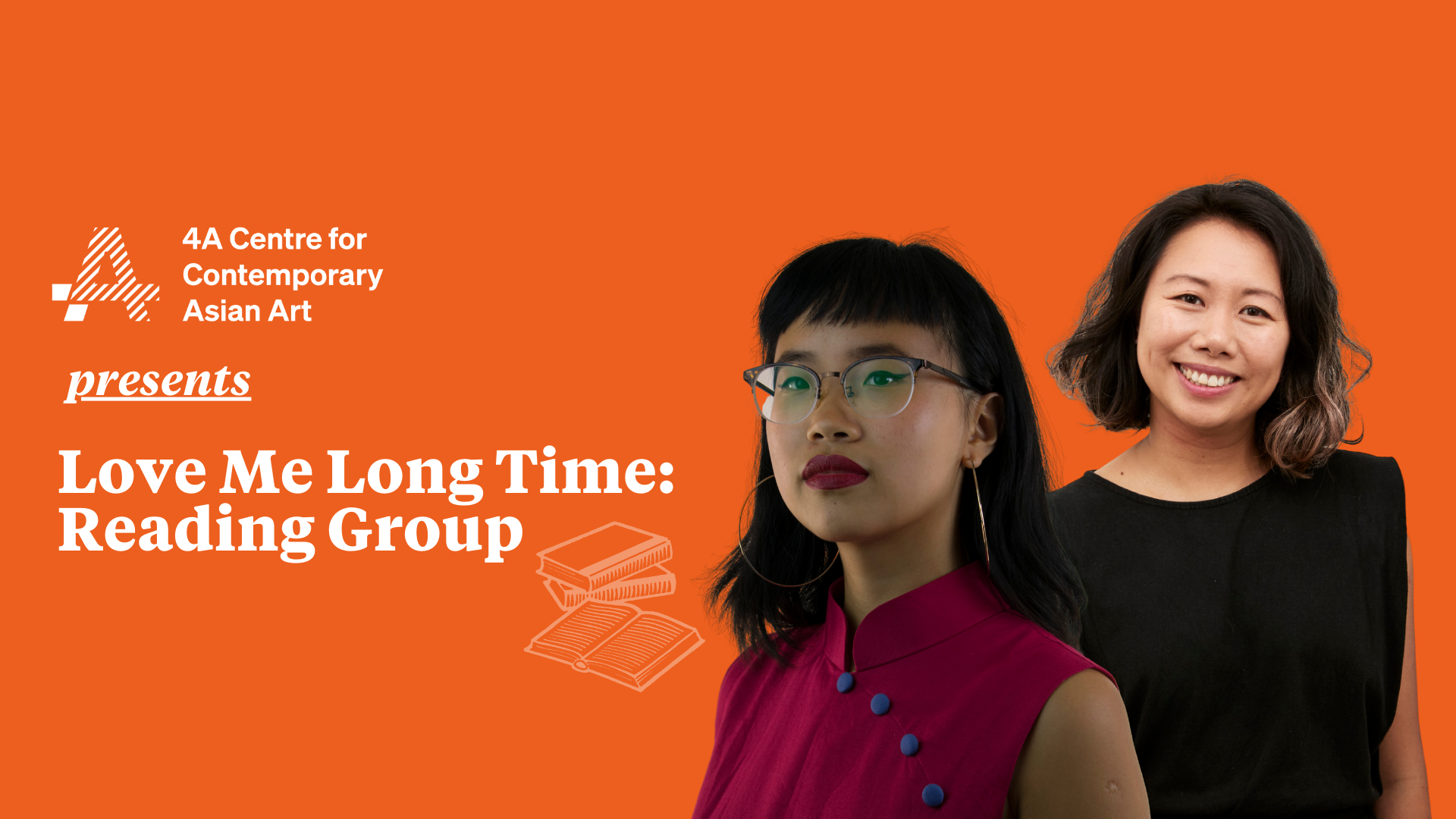 When
Wednesday, 15 March 2023, 7:00am
Wednesday, 22 March 2023, 7:00am
Wednesday, 29 March 2023, 7:00am
Location
4A Centre for Contemporary Asian Art
181-187 Hay St, Haymarket
Wed 15 March | 6pm - 8pm (week 1)
Wed 22 March | 6pm - 8pm (week 2)
Wed 29 March | 6pm - 8pm (week 3)
Free | Register here.
You are invited to our reading group exploring desire, intimacy and love with Dorcas Tang and Tian Zhang.
Please note all three reading groups are open to People of Colour only. Reservation is required, but you don't have to attend all three sessions.
On Wednesday nights, we will engage with works by Asian/Asian Australian authors as part of Dorcas Tang's solo exhibition at 4A Centre for Contemporary Asian Art, 'Love Me Long Time'. Join us as we collectively read and discuss excerpts from different texts – come when you can, leave when you must. We hope to facilitate intimate, lively, and curious discussions; to exchange gifts of knowledge, experience, and food (snacks will be provided); to feel nourished and to nourish.
'Love Me Long Time' examines overlapping themes of desire, intimacy, and Asian identity through portraits of and oral interviews with Asian diasporic and Asian Australian women and non-binary people.
Week 1 | March 15, 6-8 pm: Stone Fruit by Lee Lai
Content warning: depression, racism
Stone Fruit reveals through intimately naturalistic dialog and blue-hued watercolor how painful it can be to truly become vulnerable to your loved ones - and how fulfilling it is to be finally understood for who you are. Lee Lai is a cartoonist and graphic novelist from Melbourne, Australia, currently living in Montreal, Canada
Week 2 | March 22, 6-8 pm: Be Not Afraid of Love by Mimi Zhu (Chapter 8: Community)
Content warning: intimate partner violence, sexual assault
Be Not Afraid of Love is a collection of powerful interconnected essays and affirmations that follow Mimi Zhu's journey toward embodying and re-learning love after a violent romantic relationship. Mimi Zhu is a queer Chinese–Australian author, writer, and artist.
Week 3 (+ Potluck)| March 29, 6-8 pm: Femme in Public by Alok Vaid-Menon
Content warning: transphobia, assault, suicide, grief
'Femme In Public ' is a poetry collection including work from 2014-2017. It is a meditation on anti-trans harassment, a ceremony for loss and grief, and an imagining of what could be if we weren't taught to fear the very things that have the potential to set us free. Alok Vaid-Menon is an American writer and performance artist of Indian descent.
About the facilitators:
Dorcas Tang 邓佳颖 (she/they): Dorcas is a Chinese Malaysian artist interested in conversations about photography, history, and archival silences.
Tian Zhang (she/her): Based on Dharug Country in western Sydney, Tian Zhang is a curator, facilitator, writer and collaborative artist working at the intersections of art, cultural practice and social change. Her practice is underscored by conversation, criticality, solidarity and joy.
Accessibility information:
Due to renovations and remediation works at 4A, there is no bathroom and no other space in the gallery to decompress. We [4A and Dorcas, the artist] welcome critique and feedback.

There are accessible bathrooms in the pub directly opposite to 4A, The Palace Hotel. You must be 18+ to enter. Crossing Hay Street, the pub is 60 meters away from the space.

If you are underage and unable to enter the pub and are able to climb two flights of stairs, there are bathrooms in the Capitol Square arcade/food court also directly opposite 4A. The washrooms are 80 meters away from the gallery. When entered, take the first left.

Our ground floor - where we will host the reading groups - is accessible by a ramp upon request.

Wearing a mask is encouraged. We will have them available at 4A.
We're looking forward to sharing the space with you.
Watch this video to know more about how artist Dorcas Tang and curator Reina Takeuchi brought 'Love Me Long Time', the exhibition, together.
Dorcas Tang 邓佳颖: Love Me Long Time is supported by Create NSW Small Project Grants (Quick Response) and the Pride Foundation's Small Grants Program.
Associated Exhibition