Asian diaspora and intimacy: Where is my future? I desire to be seen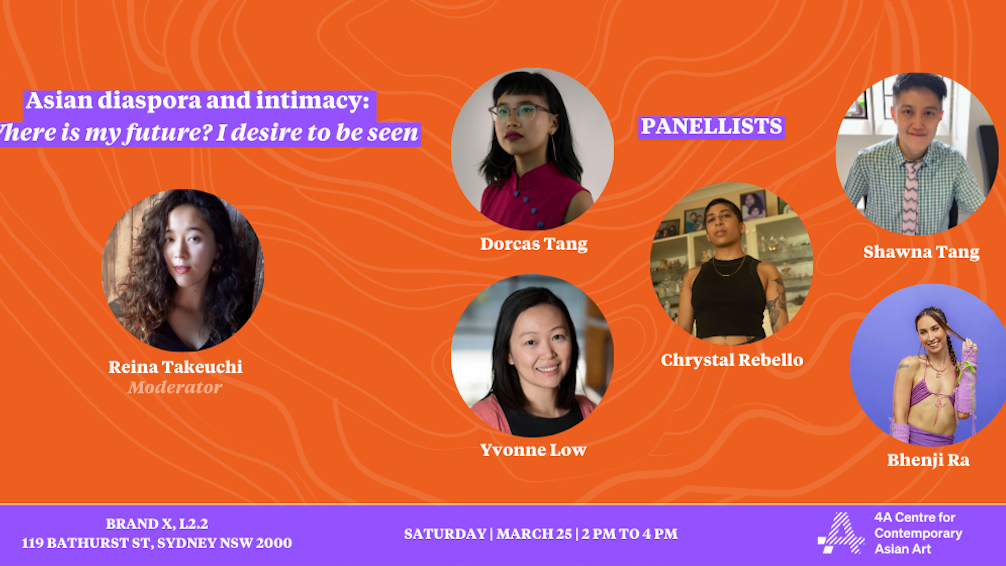 When
Saturday, 25 March 2023, 3:00am
Location
Brand X
119 Bathurst Street on Level 2
Coinciding with Dorcas Tang 邓佳颖's latest exhibition, Love Me Long Time, the talk will be moderated by Curator Reina Takeuchi and feature panellists Dorcas Tang 邓佳颖, Yvonne Low, Chrystal Rebello, Shawna Tang, and Bhenji Ra.
The panellists will explore the experiences of art making, identity formation, representation, and gender. They will delve into the concepts that form our understanding of Asian identity and the narratives that surround intimacy and desire and ask how we can build better futures and relationships with ourselves and others.
We will look to the collective past to understand how we relate to visibility, community, and sustainability within the diaspora. The discussion will address questions like the role of art in world-building, how to build community, and what relationships we envision with ourselves and others.
Come and discover what caring for one another looks like and how we can practice a productive form of care that is not muddied by the selfish intentions of oneself. The panel will also discuss the impact of queerness on popular culture and the commercialisation that follows.
Powered by 4A Centre for Contemporary Asian Art, the panel talk will take place at 119 Bathurst Street on Level 2. Our staff will be downstairs to escort you up. Please arrive by 1:45 pm for a 2 pm start.
Know The Panel:
Dorcas Tang 邓佳颖 (she/they): Dorcas is a Chinese Malaysian artist interested in conversations about photography, history, and archival silences.
Yvonne Low (she/her): Yvonne Low is a lecturer and art historian at the University of Sydney with research interests in contemporary Southeast Asian art, Chinese diaspora culture, women's history, and digital methods. She has published over 40 books, journals, and exhibition catalogues and is committed to advancing scholarship in the region through various projects.
Chrystal Rebello (they/them): Influenced by their experience as a child of the diaspora, life spent in South West Sydney, and lengthy career as a sex worker, Chrystal is an advocate for intersectionality and representation of minority groups within the arts and adult industries. They've choreographed and performed for a number of productions, including Sky Sirens' Make it Rain, Glory Box, Creature Preacher, and most recently, Worship Queer Collective's World Pride edition of 'Don't Cha Wish You Yum Cha'.
Shawna Tang (she/they): Shawna Tang, Senior Lecturer at the University of Sydney, is an interdisciplinary scholar with a background in queer studies. She is the author of Postcolonial Lesbian Identities in Singapore and editor of Queer Southeast Asia. Her research and teaching lie at the juncture of sexuality, gender and race.
Bhenji Ra (she/her): Bhenji Ra is a transdisciplinary artist currently based on Gadigal land, Eora Nation. Her practice combines dance, video, illustration and community activation. Her work dissects cultural theory and identity, centralising her own personal histories as a tool to reframe performance. She is the mother of Western Sydney based collective and ballroom house SLÉ.
The discussion will be moderated by the 4A's Reina Takeuchi - also the curator of Love Me Long Time. Reina's practice spans visual arts, choreography, curatorial projects, and creative facilitation, influenced by her experiences living across East and Southeast Asia during her youth.
Accessibility Information:
Snacks and refreshments will be provided on the day. The venue provides wheelchair accessibility, including accessible restrooms. This event is Auslan interpreted.
We're excited to welcome you!
Associated Exhibition