Letter from the Editor
Mariam Arcilla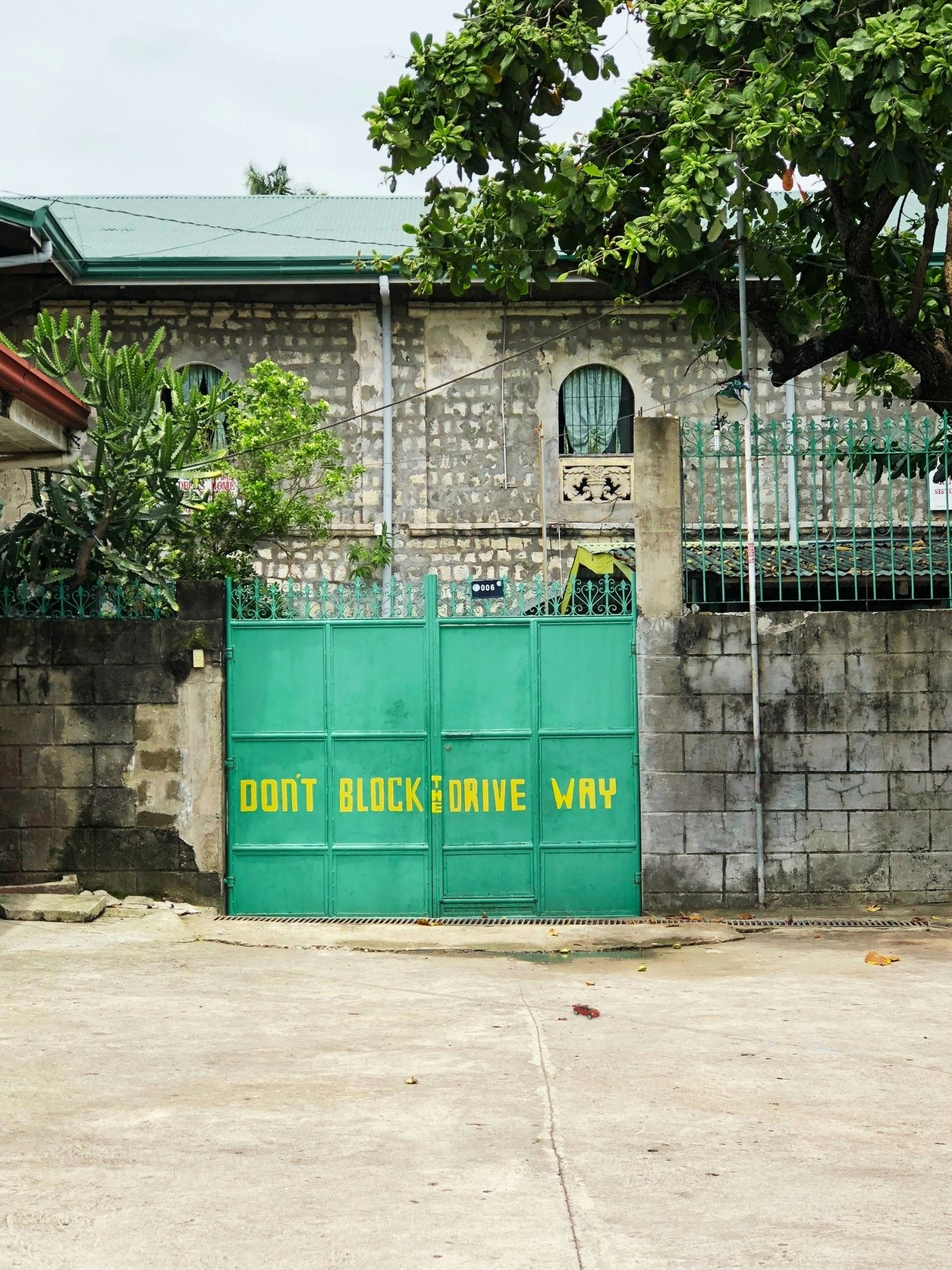 A toy car blocks a gate emblazoned with a hand-painted sign 'Don't block the drive way'; located in the author's childhood district, Cubao, Philippines, 2018 | Photo: Mariam Arcilla
Utter the word 'baliktad'. Notice how your tongue bangs the roof: a mouthly thud that hydrates the word, brings it to life. In my native tongue of Tagalog, baliktad translates to upside-down or inside-out; to reverse or invert. Another way to digest this: to go baliktad is to retreat, be unsequenced, to block the way. Spin around your own axis. Swallow your words. Turn over a new skin/a new leaf/ a new leave. For instance, we become baliktad when we peel away from our ancestral homelands and scatter across foreign soil—to seek work, for adventure, to connect with families, for survival. All the while, we wrestle with the tensions of displacement and assimilation. We feel baliktad—effaced, minimised—each time our names are misspelled or mispronounced. And we go baliktad when the languages that throned our infancy begin to fade away, replaced by adopted vernacular.
But in true flip-flop form, baliktad can unfold (or refold?) in the same way that bodies shapeshift and minds reassemble. We employ and maintain baliktad-ness by choosing radicality over consensus: we code-switch and invent loanwords; we harbour familial traditions, commingling these with newfound ways of living. For diasporic people, to be baliktad is to survive.
On that note, at a recent gallery meeting, a few of us deliberated the enunciation of 'diaspora' (cue rigorous tongue-laps in the keys of dee-ya-spora / die-ya-spora / dai-yass-spora). Though I suppose if there is one word that should remain unfixed, it is this. A neocultural idiom that webs nations with the sea; cradled in the mouths of the people who roam. Diaspora unfurls; it speaks with a multi-voiced spirit much like baliktad.
For the tenth issue of 4A Papers, we explore ideas of home through a baliktad lens. Summoning the elements of fire, air, water, and land, our five contributors uncover new stories about planetary care, nationhood, family dynasties, and collective authorship:

Leora Joy Jones dissects the cosmic-driven themes that power the 2020 Taipei Biennial: You and I Don't Live on the Same Planet. As worlds spin, fracture, and heal, Jones considers novel and historical modes of hyper-connectivity, sustainability, eco-crisis, and globalisation—through the minds of artists working at the coalface of planetary concerns. From land to sea, we plunge into choppy Sapphire Coast waters with Matt Chun's hypertext essay. Ferried by a patrilineal energy that once sailed this ocean, Chun laps back to land, coughing up seawater and ancestral ghosts with newfound resolve.1 Across the Pacific, we revisit the aftermath of the fire that scorched the Quezon City premises of the Philippines' longest-running artist-led initiative, Green Papaya Art Projects—just as cofounder Norberto 'Peewee' Roldan planned to retire the twenty-year-old organisation. What follows is a diaristic account of preserving a living archive—group-authored by Green Papaya's Yuji de Torres, Iris Ferrer, Norberto Roldan, Touki Roldan, Jel Suarez, and Dominic Zinampan. Elsewhere, clay histories and Taiwanese nationhood are explored by Annette An-Jen Liu through her homeland experience and musings with ceramicist Ruth Ju-Shih Li. Also in Taiwan, the evolving practices of artists Yu Tzu-Chin, Su Misu, Wang Hsiang-Lin, and Mong-jane Wu are spotlit by Hugh Hudson through a string of video interviews that offer insight into the future of photomedia.
Dispatched from Quezon City, New York, Taipei, Bermagui, and Gadigal land, these acute profiles remind us that—yes—you and I don't live on the same planet, but we can all have a shared sense of what home means. With that, I come full-circle, with the Tagalog frankenword: balikbayan. Smooshing 'return' (balik) with 'home' (bayan), its meaning is two-fold. It is customary for overseas Filipino workers to send balikbayan boxes to their families in the Philippines: material culture laced with love, connection, and longing; packed in cardboard and freighted home. Millions of Filipinos in the diaspora—who left our archipelago to pepper the world—are referred to as balikbayans. As a balikbayan who migrated to Australia aged 15, I am one of over 310,000 Pinoy migrants who call this nation our second home, or pangalawang bahay.2
This invites the question: what does balikbayan mean now, to a child of diaspora? What is balikbayan in a Covid-laced world? How do you balikbayan (it's a verb too) if you can't—or aren't permitted to—leave your adopted country or re-enter home soil? Likewise, what happens when you return to a territory that you no longer recognise? A region destabilised, colonised, terrorised, geopolitically renamed? Perhaps by being baliktad—to re-introduce this paradox—we can find a way to exist in the dualism of belonging and unbelonging? Because if there's anything this global pandemic has taught us, it's that this disease transcends borders; it leaps across states, demographics, and classist structures. Living cells that swarm, mutate, extrapolate, recolonise—much like the beehived brain that infiltrates the cover of our current Issue.3 So, we must then reskin this word, rematriate its spirit. Balikbayan is, after all, a call-back to land. For traditional owners, it's the return of Country. Because wherever in the world we find ourselves in today, our feet will always be oriented towards the echoes of motherland. Balik-tad. Balik thud. This is how we land back home.
— Mariam Arcilla
Listen to a reading of the Letter from the Editor here.
Established in 2016, 4A Papers is an online journal that captures the currency of ideas and movements in Australia and the Asia region. From critical essays, reviews and dialogues, to hypertexts, travelogues and autotheory, 4A Papers chronicles the cultural transformers of our time.

As a commissioning platform, 4A Papers profiles an array of contributions from artists, culture workers, authors, musicians, curators, academics, performers, producers, and researchers. Up until 2020, the journal was published twice a year. Ten issues in, 4A Papers enters a new publishing schedule for 2022, and will be released concurrently alongside 4A programs.
Acknowledgements:

4A Papers Issue 10 is published by 4A Centre for Contemporary Asian Art on the unceded lands of the Gadigal people. I pay my respect to Elders past, present and emerging, and acknowledge the wealth of stories, culture, and knowledge kept alive by First Nations people across generations.
As we debut our new-look issue and steer 4A Papers towards the future, I'd like to take a moment to salute Pedro de Almeida for launching the publication in November 2016, and for his editorial custodianship of Issues 1-7. I also acknowledge Sue Acret, Mikala Tai, and José Da Silva for their co-editing care of Issue 8. We invite you to access more 4A Papers contributions via our archives (Issues 1-9) here.
Notes
Safe Passage by Matt Chun is presented as a hypertext essay combining video and sound. Click the play button at the top of the page to activate the soundtrack.

According to the Australian Bureau of Statistics, Filipinos form the fifth largest group of migrants in the country, as of April 2020. Source: Masinag, R. '310,000 Filipino migrants are calling Australia their second home, new data reveals' in SBS Filipino, 23 April, 2021 (accessed: September 2021). In this essay, I refer to 'Filipino' and 'Pinoy' (as opposed to Filipina, Filipinx,Pinay) to denote the gender-neutral and non-conforming pronouns that date back to pre-colonial Philippines terminogy.

Our 4A Papers cover image is: Pierre Huyghe, Exomind (Deep Water), 2017, concrete cast with wax hive, bee colony, figure: 72×60×79 cm, beehive dimensions vary. Courtesy of the artist, Winsing Arts Foundation and Taipei Fine Arts Museum. This work is featured in Leora Joy Jones' review of Taipei Biennial 2020: You and I Don't Live on the Same Planet.

About the contributor
Mariam Arcilla is a Filipino-Singaporean creative producer, writer, editor, and communications strategist who has worked in the Australian arts sector since 2006. She creates on unceded Gadigal land.
Read more