TROPPO GALAKTIKA PRESENTS: SALTY BITCH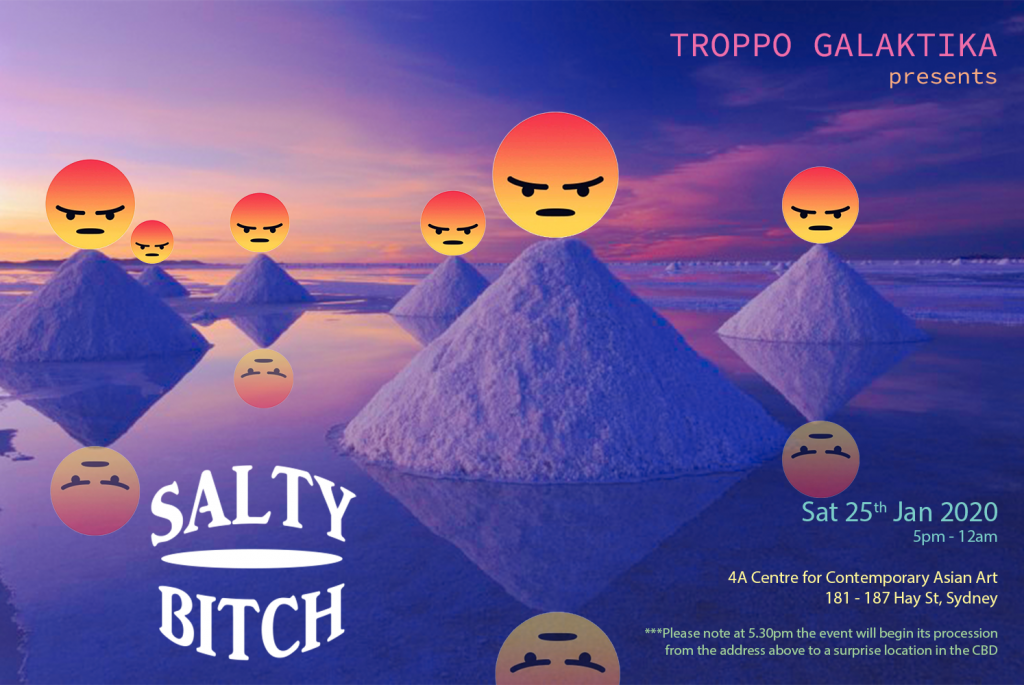 When
Saturday, 25 January 2020, 6:00am
Location
4A Centre for Contemporary Asian Art
181-187 Hay St, Haymarket
CLUB 4A: TROPPO GALAKTIKA PRESENTS: SALTY BITCH
TROPPO GALAKTIKA is proud to present SALTY BITCH. Beginning at 4A we gather to move in performance procession to the club / SALTY BITCH is resistance and agitation / SALTY BITCH is sweat rimmed flavour / SALTY BITCH is stank face riding dancefloors / SALTY BITCH is cool breeze evaporation leading SALTY BITCH to invigilate on Barangaroo.
Curated by the amazing Troppo Galaktika, as part of 4A Centre for Contemporary Asian Art and UNSW Galleries exhibition Wansolwara: One Salt Water, for Club 4A's third iteration expect performances, music, dance and just the right amount of salt. Meet at 4A at 5PM on January 25 to be taken to a secret location.
Starting the night with new work from artist Nadeena Dixon, make sure you arrive at 4A between 5-6PM to join us as we make our way from the gallery to the club – with the location for our night-long party only released on the day!
Club 4A: Troppo Galaktika presents: SALTY BITCH features performances throughout the night from Seini "SistaNative" Taumoepeau, Bhenji Ra, and STELLY G, wearable art from Luna Aquatica, a visual feast from VJ Vaxxx on the club screen, soundtracked by sets from DJ Sista Agz, DJ SOVTRAX, Ayebatonye, KILIMI + more.
ARTISTS:
Nadeena Dixon – Artist
Seini "SistaNative" Taumoepeau- OceaniaX Orator & Songwoman
Bhenji Ra – Performance Artist
STELLY G – Performance Artist
Luna Aquatica – Wearable Artist
VJ Vaxxx – VJ
DJs:
DJ Sista Agz
DJ SOVTRAX
AYEBATONYE
KILIMI
Associated Exhibition